The HISC Youth Pathway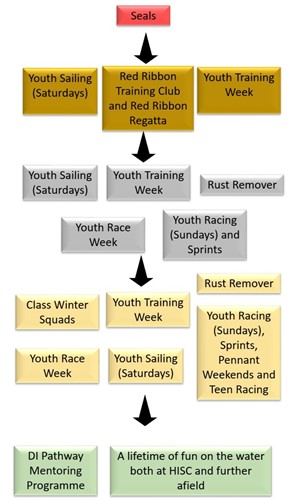 The HISC Youth Pathway 2018
We are a family club that organises events and activities for all youth members from toddlers through to 18-year olds.
We offer a Pathway for Youth (shown in the diagram) which is full of fun groups and clubs to help enable them to have fun on the water, engage with other kids and make friends, as well as learning to sail and continuing to improve their skills, in our amazing and unique environment.

In addition to our Pathway, we also have a full Fun Calendar with events for all the family to enjoy together, so whatever your children's ages there is something for everyone!
Seals
HISC Seals is a chance for complete novices and younger members (10 and under) to meet new friends and have fun and perhaps take part in some simple games on the water in the safety of the lagoon – 4 sessions are run, usually in July and August.
No child is too small to start in the lagoon, even if it is just having a paddle. Everyone gets together and brings along anything from boogie boards, kayaks, paddle boards and dinghies. (dates are published in HISC calendar). There is a briefing in front of the training rooms and a chance to sign up to use the club Teras or some Oppi on a Rope instruction.
On set Saturdays from May to September we will be running 2-3 hour sessions of seamanship skills, click for more information . . .
The above is well underway, and details for the 2019 programme will be posted in due course, still to come is:

Red Ribbon Regatta 2018
The Red Ribbon Regatta is a three-day regatta tailored to new racers, run on West Mud, during the best tides. It is a wonderful introduction to racing, a perfect preparation for Bronze Fleet at Youth Race Week. It is suitable for children who have never raced before, or are nervous and new racers. Children who happily bat around the youth course on Sundays will most likely find they are a little over qualified for this event.
2018 will be the Regatta's 2nd year, 2017 was its 1st and was a very successful event.
Each day consists of fun briefings, followed by some outdoor role play, such as starting sequences, mark rounding, and a few rules of the road, involving running around a made up on course on the beach. Then off to West Mud for some fun races.
This year the regatta is part of our Dinghy Mentee Programme so we will have some great help from our keen experienced racers who will either be about to or have recently taken their instructors course.
Other than that, the event is run by the parents of kids involved, so the sooner you enter the sooner we can make a team - please let us know when you enter what role you are happy to take part in. eg Race officer, Assistant race officer, RIB Driver, RIB crew or Beach.
The Red Ribbon Regatta cost is £25.00 per day or £60.00 for all three days. It is fun coached racing, with lots of prizes. Children can enter for one day or all 3 days.
For children over 8, Youth Training Week provides the ideal setting for beginners through to early racers, click for more information . . .
Rust Remover
The Rust Remover is a one-off training day in the spring to help brush off the cobwebs and any rust after the winter months - reuniting both with their friends and with their boats!
Youth Sunday Racing
Dedicated racing for youth classes is held on Sunday mornings throughout the sailing season with a race start of 11.00am and a pre-race briefing at 0945 am outside the training rooms. This year we are changing the series format and splitting our racing season into 4 series, with a prize giving after each series. We hope this will help with people's busy lives. Newer racers may wish to check the tides, as if the tide is in, racing generally takes place on West Mud, and if not, on Pilsey Sands.

Although it won't be counted in the main results over 18s such as parents and older siblings are welcome to sail with their child or younger sibling and are expected to help facilitate rather than all out race.

The Laser 4.7, RS200 and the 29er classes race with the adults in Sunday Club Racing; they can receive prizes for top youth in the adult racing. This also applies to sprint events.
Youth Pennant Racing Weekends
Pennant Racing weekends are run like an open meeting but are just for members, with racing results counting for the weekend only rather than counting towards the series. The racing usually consists of three races a day both Saturday and Sunday with prize giving on the Sunday afternoon. The Junior classes, Optimist, RS Tera and RS Feva sail on a youth race course with their own race officer. Briefings are usually 1pm on a Saturday and 10am on a Sunday.     

RS Fevas can also join in with the adult Pennant Racing if they wish to in the slow handicap fleet (usually more experienced racers wanting to sail on bigger courses or out in the Bay). The Laser 4.7, 29er and RS 200s sail on the adult course and youth sailors get a separate prize
This special race is to be held on the Saturday of each Pennant Weekend, aimed at allowing the older youths the opportunity to get off the youth course, but not quite on the adult course if they don't fancy it . . .
RS Feva Team Racing
As well as sprints the Feva class also has some team racing dates in the calendar which always prove to be very exciting both to take part in and watch.
RS Elite Team Racing
The Elite Fleet have very kindly (and I mean very kindly) allowed the slightly older youth to take over the Elite Fleet for a night of Elite Team Racing, another highly recommended event and an inspiring opportunity to race in the beautiful Elites.

All the dates are on the calendar and additional information is posted from Class Captains via email and Facebook.
Youth Race Week
Youth Race week is an open meeting for the Youth classes and handicap fleets; one of the premier events in the HISC Calendar. It is the ideal event for new pairings to cut their teeth as the quality of the racing is of a very high standard. We always have excellent race officers and a choice of sailing both inside and outside the harbour. There is a popular beginner race series (Bronze Fleet) for novices.

The Thursday night Youth Ball is one of the highlights of the youth social calendar!
Hayling Winter Training Squads
The HISC classes run hugely successful Winter Youth Squads training programmes. It is available for skilled young sailors who want to improve their racing skills and practice throughout the winter. The quality of the coaching is very high and many successful international sailors have trained in the HISC Youth Training Squads.

The most active youth classes at HISC are the Optimist, RS Tera, RS Feva, and 29er and each class has its own class captain who coordinates the training programmes. The squad usually comprises of 5 training weekends to help the young sailors progress. The training season runs from October to March. The squads may vary from sailors transitioning to a new class all the way up to RYA Youth Squad sailors.
We believe that including everyone in the squad process builds a great team mentality and ensures friends for life. Many of the coaches and assistant coaches are home grown from the HISC pathway system having achieved their RYA Race Coach certificates at the club. To be selected for these squads the sailors must show that they are committed to racing and training.
Being introduced in 2018, click for more information . . .