RS Feva at HISC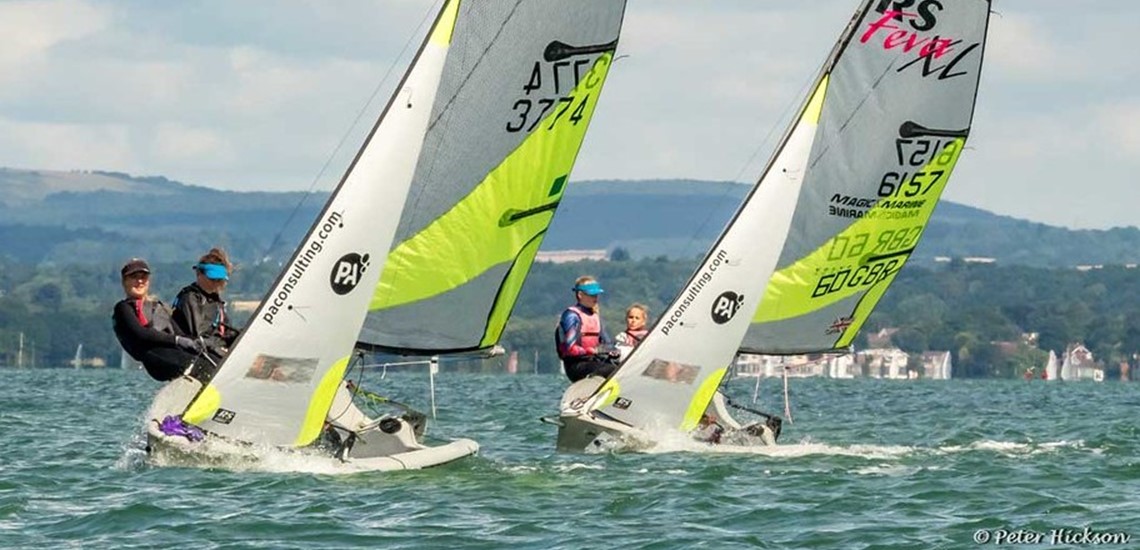 The popularity of RS Fevas at HISC is the result of a varied and continuous programme of training.
Contact: Christine Harper - [email protected]
At HISC we have a diverse and active fleet. We aim to provide a fun and varied programme primarily aimed at all abilities of young sailor, from the inexperienced sailor transitioning in from other junior classes, to the world champion.
Boats of all vintages sail together and include both RS Feva S and RS Feva XL, rigs, depending on crew size and experience. RS Fevas can be can be rented from the club so anyone can have a go anytime, and there is a healthy second-hand market for those not looking to purchase new. The Feva can be sailed single-handed under main alone, or as a 2-person boat for cruising companionship or, if the big asymmetric spinnaker is used, for major adrenalin rushes. It is also great preparation for sailing older youth and adult double-handers. 
HISC Feva sailing highlights range from Family Fun Week to Youth Race Week and Chichester harbour Race Week with often 30+ boats attending and plenty of trophies to be won. For those sailors with their eyes set 'on the circuit', HISC usually hosts an RS Feva class Grand Prix open meeting and HISC sailors regularly do well at National, European and World Championships. 
This year's motto for the youth is Saturdays are "Fun days" and Sundays are "Race days". Four Race series running from April until Christmas, interspersed with open-meeting style Pennant weekends, open Pursuit race days and ad-hoc Sprint days provide plenty of opportunities to have fun, build confidence and practice. Check your club calendar for all the dates.
Fevas have their own start in the youth Sunday racing: racing is at 11:00am with briefing beforehand, in or outside the Training Rooms, Courses vary from the traditional triangle-sausage shapes to the short and snappy windward-leeward style of sprint races. 
There are no pre-requisites to joining in - all abilities are welcome from Mud Larks sailors who are not yet racing but building confidence on West Mud, to those pairs honing their tactics and roll-gybes looking to secure a place in the top-notch UK Feva National or Junior squads. Fevas are a supported class at HISC, so all HISC racing and Youth Saturdays are dutied and there is boat parking available. 
Crew pairings for all training and events can be all boy, all girl or mixed youth pairs, as well as parent and child and even novice ladies pairs, as the Feva is so easy and fun to handle. If you are an experienced sailor but haven't got a boat, or you have a boat but no pair, or you have little experience but are just keen to join in, register your interest as helm or crew and we'll do our best to pair you up. 
See you out on the water - we'd love to have you in our fleet!
See the Youth Fixture List here